IT Business Practices

Enterprise Management Services
The information technology (IT) manager faces many challenges when it comes to managing applications, systems, and networks. The demands of end users, changing business needs, new technologies, and shrinking budgets create an environment that transforms your IT staff into a group of "crisis managers." Instead of doing the jobs they are paid to do, most of their time is spent fighting fires by handling such issues as a network failure or a down e-mail application. As a result, there is constant pressure to keep your IT environment, and your business, fully productive.
The purchase of a tool set to manage this environment is only a part of the solution. The total solution is Enterprise Management - the integration of people, processes, and tools with the best management practices in order to achieve end-to-end management of the IT infrastructure. Advanced IT Solutions Inc. provides the expertise to completely implement new technologies in an ever-changing environment and to assist clients in reaching their maximum productivity.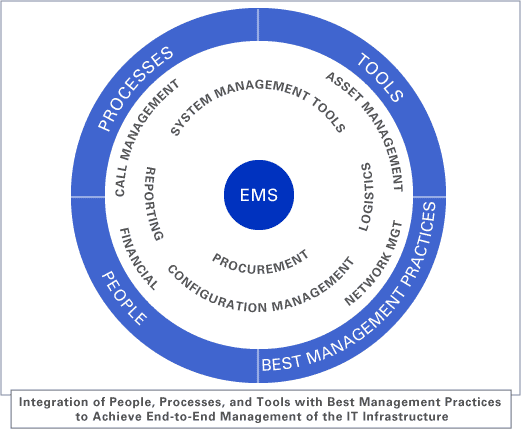 The Service Delivery Chain
Operational effectiveness is achieved through cross-functional management of the IT infrastructure - the complete service delivery chain. Key processes for that service delivery chain include:
Identifying key services/applications

Defining and creating service level objectives

Establishing operational level objectives

Monitoring, measuring, and reporting on service level compliance

Investigating the remedial actions taken in the event of a service outage (root cause analysis)

Acting as a change agent to improve service effectiveness and reduce service "downtime"
Knowledge of key business drivers and challenges together with an understanding of the technology and the key applications to implement business goals and objectives effectively allow a company to achieve competitive advantage. AITS has the knowledge, the understanding, and the experience to handle your Enterprise Management Services (EMS) needs.